Sylvester Stallone and his former rival Arnold Schwarzenegger were both Hollywood's premiere action stars back in their heyday. But Stallone felt it was much easier for Schwarzenegger and others to get away with funny one-liners back then.
Sylvester Stallone couldn't joke around like Arnold Schwarzenegger and other action stars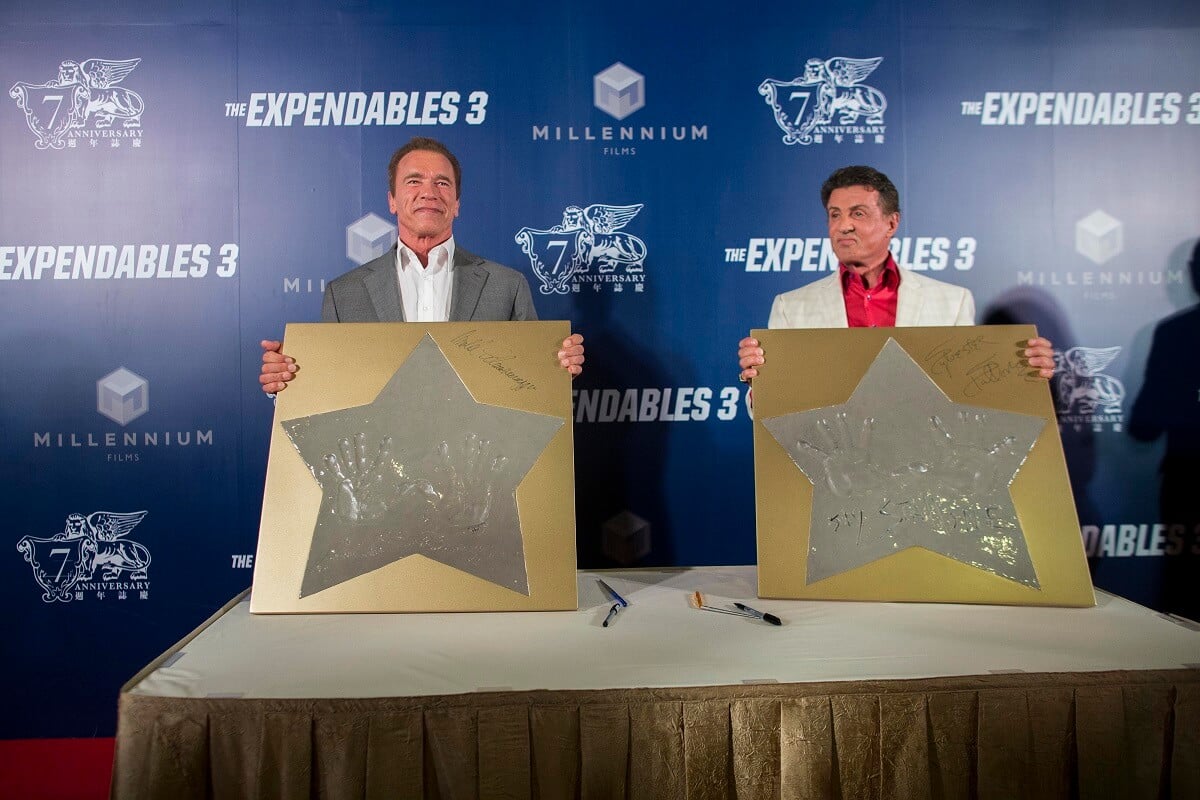 Stallone and Schwarzenegger had similar trajectories and career paths. They were both primarily known for their classic action films, and the physical ability they brought to their roles.
But Stallone felt there was an important comedic element separating his films from the likes of Schwarzenegger's and others. At the time, Stallone believed audiences were more willing to accept comedy in a Schwarzenegger picture than in a Stallone movie.
"Arnold and Bruce Willis can get away with things that I can't. For example, they can make jokes about what they're doing. That makes you realize the action is a show — that no one is really being killed — with a little bit comedy. If I do that, because of First Blood and Rocky, it comes off as dishonest," Stallone once told Film Threat.
Stallone believed that trying to add humor to some of his roles would've done more harm than good for his performance.
"It seems my kind of performance only works when I'm trying to be very serious and suffering a great deal. I have to be dramatic to be believable because that's the way I am perceived. It's also the way I identify. I don't like to do comedy-action that deals with life and death. That's not comedy. To me. But some people get away with it and I can't fight their success," he said.
Sylvester Stallone conceded that Arnold Schwarzenegger was the bigger action star
Stallone and Schwarzenegger are on more than good terms now. But back in their prime, the two were constantly competing with one another. This fierce competition even affected the movies they would do. Schwarzenegger would occasionally notice Stallone on the face of a hit action movie, and immediately attempt to surpass it.
"Every time he came out with a movie like Rambo II, I had to figure out a way of now outdoing that," Schwarzenegger recently said on his documentary Arnold (via Entertainment Weekly).
Stallone noted that, although he once felt way ahead of Schwarzenegger as a star, movies like The Terminator made Stallone take notice.
"We became incredibly competitive," Stallone said. "Like [Muhammad] Ali and [Joe] Frazier, or great warriors that are traveling the same course: There was only room for one of us."
Stallone asserted that, in the end, Schwarzenegger ended up being the bigger action star between the two.
"He was superior. He just had all the answers," Stallone said. "He had the body. He had the strength. That was his character."
Arnold Schwarzenegger duped Sylvester Stallone into starring in one of his worst movies
Not all of Stallone's movies are hits. Stallone had a misfire in his career when he decided to do the 1992 picture Stop! Or My Mom Will Shoot. The film saw Stallone playing a man working with his mother in an attempt to solve a murder. It was one of Stallone's worst-reviewed films, and didn't do too well at the box office, either.
But his main motivator for doing the feature was Schwarzenegger, who he heard would be picking up the project.
"He's quite clever," Stallone once remembered on The Jonathan Ross Show (via AV Club). "He goes around town saying, 'I can't wait to do this film.' I go to my agent, 'Get that thing away from him. Get people options on me.' I got it and I said, 'What a piece of s*** this is.' He goes, 'Ha ha ha!' At least I wasn't pregnant in a film, Arnold. We're even."